Restaurants & Bars
Grand Memories Splash Punta Cana has a buffet restaurant as well as a Mexican, Italian, and marine-themed international restaurant. No reservations are required, but those who show up during peak dining hours can expect a bit of a wait. There are plenty of spots to grab a drink, including swim-up bars at the two main pools.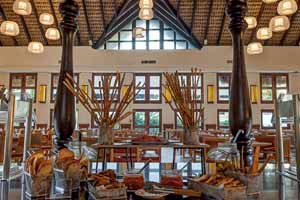 SELECTIONS BUFFET
Discover delicious local and international dishes, prepared with fresh, authentic ingredients, served up in our main buffet restaurant. This rich buffet also features fresh fruit juices, a special kids buffet area, and healthy options.
Breakfast - Lunch - Dinner | A/C | (Dress code: Evening casual)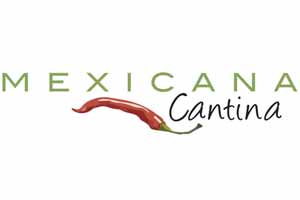 MEXICANA CANTINA
Enjoy Mexican fusion food, with a tasty blend of indigenous Mesoamerican cuisine, including European and Spanish influences. Mexican cuisine was added by UNESCO to its list of the world's "intangible cultural heritage."
A/C (Dress code: Evening casual)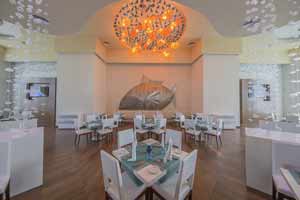 UNDER THE SEA
INTERNATIONAL CUISINE RESTAURANT
Families can experience an adventure when they dine at the resort's popular Splash World Restaurant, where adults and kids alike can dine by colourful marine life.
A/C (Dress code: Evening casual)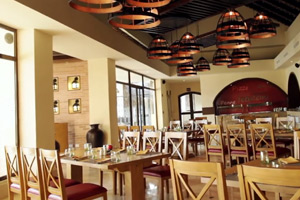 BELLA CUCINA
ITALIAN RISTORANTE
Soak up the romance of the Mediterranean with rich flavours and enticing aromas from the Italian countryside when you dine at this charismatic, on-site restaurant.
A/C (Dress code: Evening casual)
Memories guests also enjoy full access to the following restaurant at Royalton Punta Cana located next door during snack and lunch hours.
GRAZIE ITALIAN TRATTORIA
Enjoy the flavors of traditional cuisine with delicious Italian favorites served next to the sandy beach for a grilled lunch. Available for lunch and a late snack. Access is available to Diamond Club™ guests only.
*Located at the nearby Royalton Punta Cana Resort and Casino
SCORE SPORTS BAR
Casual atmosphere and warm service provide the perfect setting for savoring an evolving menu of grill specialties. There's no way you'll miss the big game with our Sports Event Guarantee (TM), bringing the top US and International sports events to our big screens. A/C. Access is available to Diamond Club™ guests only.
BARS
Raise your spirits
Whether you want to hang out in the lobby with new friends or catch your favourite game, Memories Splash Punta Cana offers top-shelf wines and liquor at its many bars scattered across the resort. Ask for your favourite cocktail or let one of our master mixologists pour you a signature drink.
CAFES AND MORE
BITES SNACK BAR
The snack bar is the perfect place to find light and appetizing food that will satisfy any craving and please your palette.
SCOOPS ICE CREAM BAR
Cool down with a frosted ice cream treat. The Ice Cream Bar offers you a wide variety of parlour favourites.
CAFFE LOUNGE CAFE
Need a coffee fix? Sample from a selection of freshly brewed Dominican-grown and picked coffee, and pair it with delicious bite-size pastries. A variety of daily prepared sandwiches and rolls are also on offer.
Open all day. | A/C